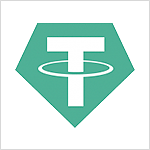 Stablecoin USDC transfer volume 5x that of Tether, after FTX fallout and shutdown of DCG's crypto wealth division. 
Crypto.com announced the delisting of Tether from its cryptocurrency exchange platform for customers in Canada.
USDC has been the preferred choice for crypto users, over USDT, averaging over $12.5 billion more in transfer volume per day than Tether. 
USD Coin (USDC), the second-largest stablecoin in the crypto market, witnessed a spike in its trade volume since October last year. Crypto.com announced the delisting of Tether (USDT) for Canadian customers whilst the stablecoin battled competitors for dominance as USDC takes over with rising trade volume. 
Also read: Samuel Bankman-Fried asked Tether for billions, the stablecoin turned FTX down
USDC v. Tether, stablecoins battle for dominance as Crypto.com announces USDT delisting
USD Coin (USDC) and Tether (USDT) are the two largest stablecoins in the crypto ecosystem. Tether's market capitalization is nearly 11 times that of USDC, at $29.4 billion. Despite the vast difference between the market cap of the two stablecoins USDC trade volume is nearly five times that of USDT since October 2022, based on data from Glassnode. 
Two leading factors that contributed to USDT's declining trade volume are Samuel Bankman-Fried's FTX exchange's collapse and the shutdown of the crypto wealth division at the Digital Currency Group. Tether's market share in daily stablecoin transactions dwindled as users preferred USDC over the past three months. 
Based on data from the crypto intelligence tracker, USDC has been the preferred choice, clocking over $12.5 billion more in daily transfer volume than USDT. 
USDT and USDC transfer volume since October 2022
Experts believe that USDC is preferred over Tether, because it is backed by cash or short-term United States Treasuries and its monthly audits are handled by global accounting firm Grant Thornton. Tether continues battling criticism for lack of a transparent auditing and reserves.
Tether adoption takes a hit with Crypto.com's announcement
Tether was further hit by the news Crypto.com, a cryptocurrency exchange platform, had announced that it will no longer facilitate transactions involving the stablecoin in Canada. The exchange's plan is to delist the stablecoin as it fails to meet regulatory requirements of the region. 
In accordance with instructions from the Ontario Securities Commission (OSC), USDT has been delisted for Canadian users on Crypto.com's exchange platform. As part of the exchange's pre-registration undertaking for a restricted dealer license, Tether and transactions involving the stablecoin are now unavailable for Canadian traders. 
This news is republished from another source. You can check the original article here