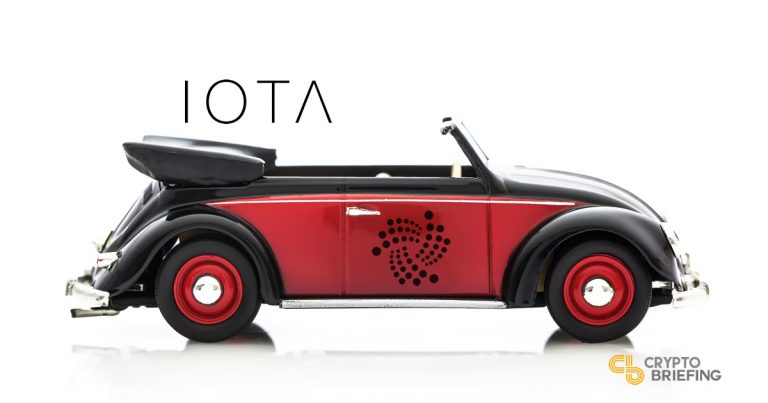 The first Volkswagen product to use IOTA's Tangle is expected to be released sometime next year.
The German car manufacturer confirmed rumors that it expected to have the protocol ready and available for its customers early in 2019.
A Proof-of-Concept (PoC) proposing how Tangle can be integrated into Volkswagen's vehicles had been jointly published by the IOTA Foundation and VW during the CEBIT'18 Expo show, held in Hannover last week.
According to the PoC as well as a panel discussion held at the show, one of the key areas both companies are looking at is using Tangle as a means to transfer software updates to Volkswagen's autonomous vehicles 'over the air'.
A spokesman from Volkswagen told Crypto Briefing that Tangle was first going to be used as part of the Volkswagen Connect feature, as a means for individual drivers to check how many miles their cars have driven.
---
First News of a VW IOTA Product
Having announced a partnership at that the Bosch Connected World Summit back in mid-February, there has since been little movement coming out of the VW-IOTA camp, with last week's announcement being the first substantial development.
During the announcement of the partnership, Volkswagen's Chief Digital Officer (CDO), Johann Jungwirth, said that the company was considering using Tangle for feeless transactions as well as to autonomously set prices based on levels of demand. Jungwirth joined IOTA's board of supervisors back in late January.
Although Volkswagen has decided to remain quiet about the roadmap for Tangle integration, it was actually the co-founder of IOTA, Dominik Schiener, who first broke ranks last week and disclosed when the first IOTA-powered product was set to be launched.
Replying to a follower on Twitter who had asked if it was true VW were expecting a launch in 2019, Schiener had said that the product team was "now working to get it rolled out in early 2019″. Mr. Schiener has not responded to any requests for comment.
Yes! They said it live on stage. They're right now working to get it rolled out early 2019.

— Dominik Schiener (@DomSchiener) June 12, 2018
A 'blockless protocol', the process by which transactions are sent on the Tangle causes two other transactions to be validated, essentially making it faster the more it is used.
As well as a partnership with Volkswagen, the IOTA Foundation has signed an agreement with the Taiwanese capital of Taipei to use Tangle in its smart city initiatives, including in the creation of digital National Identification Cards.
VW Group is one of the largest car manufacturers in the world, owning well-known car brands such as Audi, Skoda, Porsche and (ahem) Lamborghini.
However, this week has been an embarrassing one for Volkswagen as the CEO of Audi, Rupert Stadler was arrested on Monday following allegations of fraud and false advertising during the diesel-cheating scandal, where it was revealed that VW had purposefully manipulated its cars' emissions data during official tests.
Considering VW has once more found itself mired in bad publicity, the manufacturer might consider using Tangle to provide accurate data on its car emissions.


This news is republished from another source. You can check the original article here