Stafi (FIS) powers a system that aims to give people control over their staked funds. So what is stafi? Let us take a look, and also examine some stafi price predictions that were being made on 18 November 2022. 
BTC/USD price chart
Stafi explained
In the world of cryptocurrency and, by extension, the blockchain, one of the key concepts is that of decentralised finance, or DeFi for short, financial transactions that bypass banks, and thus cater for the 1.12 billion people who do not have a bank account but DO own a mobile phone. Advocates of decentralised finance hope to make with contact these people, which will, it is hoped, promote financial inclusion.
The goal is to create a fairer version of traditional financial services, which can be accessible online via the blockchain. Decentralised finance has the goal of providing a modern, fairer alternative to all of these services that can be accessed over the internet. These tools are often available in the form of decentralised apps, or dApps for short.
Another hope is that with a cheaper alternative available, remittance charges for overseas money transfers and commission fees will drop, and currency conversion will have to get cheaper to be more competitive.
Many DeFi crypto platforms make use of a process called staking. This is the practice of setting some money aside in order to provide liquidity that will help a platform operate in return for rewards. However, staking coins or tokens means that they are locked up and inaccessible. This means that if you stake a crypto whose price drops during the time that it is being staked, you end up losing out, because its value will have gone down, and there is nothing you could do about it.
To try to avoid this risk, there are programs, platforms and networks that allow people to access their staked crypto and StaFi is one of them. The platform, founded in 2019 by crypto entrepreneur Liam Young and programmer Tore Zhang, claims to be the first such platform in the world of the blockchain. People who use StaFi can, to use the technical jargon, unlock liquidity via the network. This is done by allowing people to exchange their tokens for a version of the crypto known as a reward coin. For instance, if someone wanted to exchange their staked tezos (XTZ), they would get something called rXTZ in return. 
Every blockchain-based network needs to have its own cryptocurrency, and StaFi has the appropriately named stafi token, also known by its ticker handle, FIS. This crypto is used to pay for fees on the network while it can, again appropriately enough, be staked in return for rewards. 
Since StaFi is based on the Ethereum (ETH) blockchain, that means that FIS is a token, not a coin. You might see references to such things as a stafi coin price prediction, but these are wrong. 
Stafi price history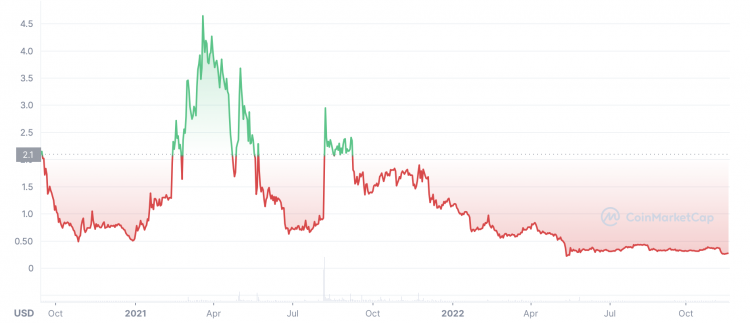 Stafi price history from launch to present – Credit: CoinMarketCap
While past performance should never be taken as an indicator of future results, knowing what the FIS price history  can help give us some very important context when it comes to either interpreting a stafi price prediction or making one of our own. 
When stafi first came onto the open market in the middle of September 2020, it was worth about $2.10. Soon after its launch, its price fell and it spent much of the last few months of the year at around $0.50. In early 2021, though, the market went through a notably bullish phase and the token hit an all-time high of $4.82 on 3 March. After that, it slipped, and when the market took a downturn over the summer FIS spent a good chunk of June and July at around $0.70. The coin enjoyed a growth spurt in August, topping $2.90 at the start of the month before it fell down again, closing the year at $1.15.
While 2021 was good for both crypto and FIS, so far 2022 has been a time of downturn and loss. Stafi initially rose to $1.23 on 3 January, but it was downhill from there and, on 17 January, it fell below the dollar and has stayed there ever since. The gradual loss became a plummet and, on 12 May, as the market was shaken following the depegging of the UST stablecoin and the collapse of the associated LUNA cryptocurrency, FIS fell to an all-time low of $0.177.
After that, it made something resembling a recovery, reaching $0.4662 on 30 July and, although it then went down again, the token appeared to be doing well. Indeed, on 4 November it broke up to $0.4846, its best price since May. After that, though, the market fell in response to the bankruptcy of the FTX (FTT) exchange and, on 18 November, FIS was worth about $0.277. At that time, there were just over 60 million FIS in circulation out of a total supply of almost 115 million. This gave the token a market cap of $16.7m, making it the 569th largest crypto by that metric. 
Stafi price predictions
Let's look at some of the stafi price predictions that were being made as of 18 November 2022. Price forecasts, especially when it comes to something as potentially volatile as cryptocurrency, very often end up being wrong. Also, many long-term crypto price predictions are made using an algorithm, which means that they can change at a moment's notice.
CoinCodex had a rather upbeat short-term FIS price prediction, saying that the token could potentially trade at $0.30827 on 23 November before continuing to move upwards to reach a possible $0.3551 by 19 December. The site's technical analysis was, despite its forecast's positivity, firmly neutral, with 14 indicators making bullish signals and the same number making bearish signals. 
DigitalCoinPrice made a stafi token price prediction that said the crypto could reach $0.34 by the end of 2022 and $0.71 in 2023. In 2024, the site said, FIS could break through the dollar barrier to trade at $1.01, hitting $1.20 in 2025 and staying there in 2026. In 2027, stafi could trade at $1.44 before jumping to $2.04 in 2028 and closing the decade at a potential $2.86. The site then made a  stafi price prediction for 2030 that argued it could be worth around $3.95 before potentially jumping to $5.38 in 2031. 
In contrast CoinArbitrageBot had a stafi crypto price prediction which claimed FIS could skyrocket to hit a little under $1.10 in 2023, arguing that it could grow to $1.95 in 2024 and $3.16 in 2025. The site predicted the token could trade at a little under $5.12 in 2026. How much credence you give this particular forecast will depend on whether, having made sure to do your own research, you believe the FIS price can grow by nearly 300% over the course of the next year and by more than 1,500% over the next four years. 
Finally, WalletInvestor was, as usual, very downbeat and bearish when it came to making a stafi forecast for 2023. The site suggested that FIS was in for a tough time over the course of the next 12 months or so, arguing that it could fall to a mere $0.0141 by November next year. 
When considering a FIS token price prediction, it is important to keep in mind that cryptocurrency markets remain extremely volatile, making it difficult to accurately predict what a coin or token's price will be in a few hours, and even harder to give long-term estimates. As such, analysts and algorithm-based forecasters can and do get their predictions wrong.
If you are considering investing in cryptocurrency tokens, we recommend that you always do your own research. Look at the latest market trends, news, technical and fundamental analysis, and expert opinion before making any investment decision. Keep in mind that past performance is no guarantee of future returns. Never trade with money that you cannot afford to lose.
FAQs
Is stafi a good investment?

It is hard to say. While there are more than one platform that allows people access to staked crypto, the StaFi platform will need to do more than stand out from the crowd. A lot will depend on what happens to the market as a whole, too. 

Remember, you should always carry out your own thorough research before making an investment. Even high market cap cryptocurrencies can be affected by bear markets. So investors should be prepared to make losses and never purchase more than they can afford to lose.
Will stafi go up or down?

The truth is, no one can really tell whether or not FIS will rise, fall, or stay put. While the likes of CoinArbitrageBot are very optimistic when it comes to setting a stafi price target, sites such as WalletInvestor are far more downbeat in their assessment of the token's future price. You need to remember that price predictions are very often wrong and prices can, and do, go down as well as up. 

In volatile cryptocurrency markets, it is important to do your own research on a coin or token to determine if it is a good fit for your investment portfolio. Whether FIS is a suitable investment for you depends on your risk tolerance and how much you intend to invest, among other factors. Keep in mind that past performance is no guarantee of future returns. And never invest money that you cannot afford to lose.
Should I invest in stafi?

Before you decide whether or not to invest in FIS, you will have to do your own research, not only on stafi but on other DeFi coins and tokens. 

Ultimately, though, this is a question that you will have to answer for yourself. Before you do so, however, you will need to conduct your own research and never invest more money than you can afford to lose because prices can go down as well as up.
Related reading
This news is republished from another source. You can check the original article here